Hyello.
Visually without any gizmos, the runway should look like a skinny trapezoid when on a correct approach like this:
The correct approach is called a glide slope. The runway (trapezoid) will change shape if you have drifted off course. Below is a representation of what the runway will look at what position your aircraft is in, in relation to the glide slope: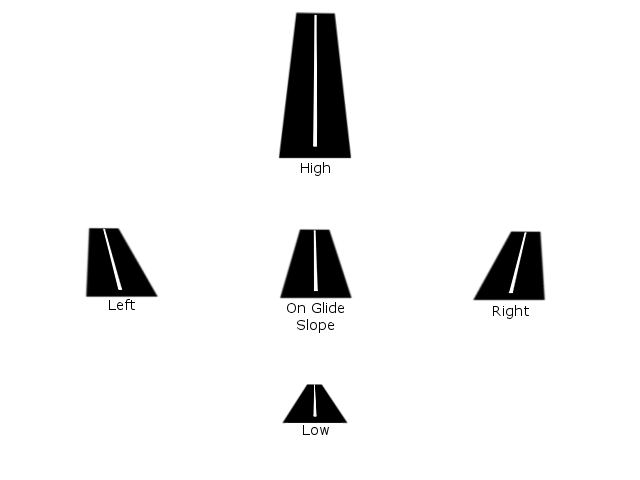 To correct this, imagine the runway center as a needle. In Warbirds there are no center lines, but you could image one if you drew a line from the center of the bottom runway edge to the center of the top runway edge. Now picture this line as a balance needle.
To get on a correct approach, "fly the needle" to the center. Needle points left, correct right, too long, decrease power and/or nose down to make it shorter and vice versa.
-------------------------------------------------------------------------------------------
All that said, it is harder to see runway alignment in a tail dragger as you get closer to the ground.
You can press the "U" key to go into cockpit window lean (view shifts left to see around nose). This is tied to gear down, so if you press U and nothing happens, your gear is not down (doh!)
OR you could be like the 109 pilots of ages past and approach hi, dive at the runway, then flair out at the last second for a nice easy 3-point landing
Getting used to visually seeing the correct runway approach will take practice.
Hope this helps!
_________________
Oblt Zinhwk
Adjutant
Stab II./JG 77

Windows 7
AMD A8 5600K Black Edition (OC 4.0GHz)
16 GB DDR3
GeForce GTX 770Ti
1TB SATA Western Digital "Blue" HDD
24" LG LED 1080p, 60hz
CH Controls